You are invited to submit a proposal to present at the National Indian Council on Aging's 2020 American Indian Aging Conference. The conference will be held August 17-20, 2020 in Reno, Nevada at the Nugget Resort & Casino (1100 Nugget Avenue, Sparks, NV 89431).
Reno has been called "the biggest little city in the world" and is often described as a small Las Vegas. Located in northwestern Nevada near the California state line, Reno is the second largest city in the state.
Boasting more than five million visitors a year, Reno offers a wide range of entertainment and educational attractions. It also makes a great base if you're planning to visit Lake Tahoe recreational area 45 minutes away, as well as Pyramid Lake to the northeast of the city. Even within the city limits you can expect to find gems like Mount Rose as well as parks, botanical gardens and arboretums.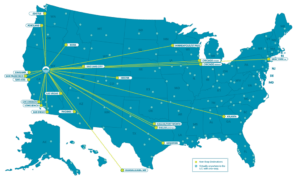 The Reno-Tahoe International Airport plays host to more than 100 daily flights and nearly two dozen nonstops from all over the U.S., making it a convenient destination for our 2020 conference guests. More than 50 airports nationwide offer either nonstop or one-stop flights to Reno-Tahoe International Airport. With one-stop access through 10 major hubs, visitors to Reno can connect to hundreds of domestic and international destinations, making travel to the region easily accessible. Cities with nonstop flights to Reno include Seattle, Los Angeles, Portland, Boise, Denver, San Francisco, Oakland, Las Vegas, Chicago, New York and more.
The theme for NICOA's 2020 conference is "Resilience for Tomorrow… Together." Additionally, 2020 will be a major election year and NICOA's conference will offer the opportunity to elevate issues in American Indian politics and legislation. The conference will also focus on issues such as health, safety, financial management, elder abuse, caregiving, employment, retirement, and the Older Americans Act.
Complete the proposal form and send in a brief description of your proposed presentation (no more than 150 words each) along with a brief biography (no more than 150 words) before the deadline of February 1, 2020.
NICOA is a nonprofit organization founded in 1976 whose mission is to advocate for improved comprehensive health, social services and economic wellbeing for American Indian and Alaska Native elders. NICOA's conference serves as a national forum where American Indian and Alaska Native elders come from across the Continental United States and Alaska to convene at our biennial meetings.
Our biennial conferences benefit our 300,000 elders as well as the entire American Indian and Alaska Native population from all 573 tribes. The conference consists of educational presentations from tribal, state and federal organizations as well as a diverse network of aging service partners that provide information and updates on aging services, health care, civic engagement and economic development in Indian Country.
The opinions expressed in this article are those of the author and do not necessarily reflect those of the Diverse Elders Coalition.